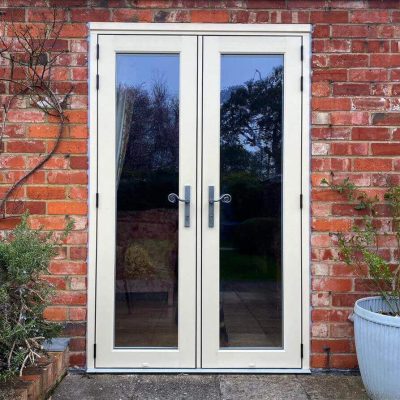 Here in the UK, it's not often we have particularly hot weather, and are especially not accustomed to temperatures of 30 degrees plus! While trying to make the most of the heatwave, it is likely you have been spending more time in your garden and have had your uPVC doors open wide to cool the house down.
In the heat, you may have realised that your external doors have become stiff and difficult to close. If this sounds familiar, there is no need to panic, read through our short blog to see what to do.
Why does uPVC expand in the heat?
Like many other materials, it is completely natural for uPVC doors, and windows, to expand in high temperatures and direct sunlight. In extreme heat, uPVC can expand by up to 2.4cm. With the heatwave currently in the UK, it is no surprise that this is affecting regular use of external doors in your home.
What do I do if my uPVC door doesn't close properly?
If your uPVC door has a lot of sun exposure, it is not surprising for it to require some extra effort when shutting and locking it; you may even struggle to close it at all. Should this happen, be patient and wait for the sun to set and temperature outside to cool down, and you will find the door closes like normal.
You can also spray cold water, or pat a cold, damp cloth, on the outside of the door frame, as this will help it cool down and shrink back to normal.
What if my uPVC french doors won't close?
A helpful tip for a set of french doors that won't close in the heat, is to bring both doors in together at the same time and lift. This helps to force them into place.
Adjusting uPVC doors in extreme weather conditions
It is important to know that if you only experience these problems with your doors, or windows, in extreme temperatures, you should not adjust them. This is because this will only cause further issues down the line when the weather passes.
If the temperature drops and your uPVC products do not rectify themselves, you will need to contact your uPVC installer for assistance.
HOME IMPROVEMENT PROJECTS IN SWINDON AND SOUTH-WEST ENGLAND
Here at Emerald Windows and Doors, we are dedicated to supplying and installing quality products in Swindon and the South West of England. As always, we are eager to help with a range of home improvements. For more information, fill out our contact form, or give our team a call on 0800 612 4154.
Read next:
What are the benefits of interior window shutters?
Can I change my window into a door?
Why should I choose a roller garage door?