Are you a homeowner in Swindon who's looking for a new entrance door? Perhaps your old timber version is at the end of its tenure and a replacement is nigh? If so, we've got a range of fantastic options that are suitable for both front and back entranceways. But to help you decide which is right for your home, lets take a closer look at each of them below.
Composite Doors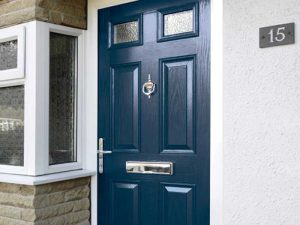 At Emerald, we install three different composite doors – the Distinction, Infinity and Solidor ranges. We've outlined a number of their key characteristics below:
All of them feature an impact resistant, highly durable Glass Reinforced Plastic (GRP) skin. This is highly customisable in a range of colours and woodgrain finishes for a genuine timber aesthetic that will last for years
The GRP skin is also exceptionally weatherproof, keeping unwanted draughts and rainfall out of your home
Utilising a highly insulated core, the levels of heat retention are nothing short of spectacular. Whichever you opt for, there's great potential to save on your energy bills
Featuring the latest in advanced locking technology, your home will be expertly secured from potential intruders
Solidor composite doors have a core that is 10% thicker than its competitors, for increased levels of durability
The Distinction range has a variation which is 70mm thick, offering a further boost to heat retention and sound insulation. This helps create an ultimately peaceful and warm home environment
Infinity doors utilise an ultra-dense foam core, helping them to achieve an 'A' energy efficiency rating
uPVC doors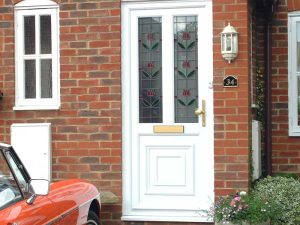 Emerald stocks an excellent range of uPVC entrance doors. We have outlined some of their key features for you below.
Thanks to thermally efficient materials, our uPVC doors achieve an energy efficiency rating of 'A', which could lead to considerable savings on your energy bills
With a bountiful selection of furniture, handles & colours to choose from you can adapt them to your unique aesthetic requirements
Emerald can incorporate a portion of glazing into them, which can be customised with a range of decorative options
Our uPVC entrance doors are incredibly durable, lasting around 30 years, provided they receive the correct care
uPVC is a material that requires very little maintenance to continue looking great. You'll only ever need to give our doors the odd wipe down
For a look at their other features follow the link here.
Emerald Windows & Doors – entrance door specialists based in Swindon
Emerald is one of the leading glazing installers in the South West. Any installation from us comes bespoke to your individual requirements, ensuring your desired end goal is always met.
If you'd like to learn more about how we can help you improve your home give one of our friendly team a call on 0800 612 4154. Or you can send us an online message.