We've put together this handy guide to lantern roofs to help our customers understand why a lantern roof could be the perfect addition to their home.
What is a lantern roof?
Lantern roofs make a truly stunning addition to a home, drenching interiors in natural light whilst making a strong architectural statement. A lantern roof is a mainly glass structure, that sits on a flat roof, constructed of different panes of glass and built in a protruding pyramid-style shape.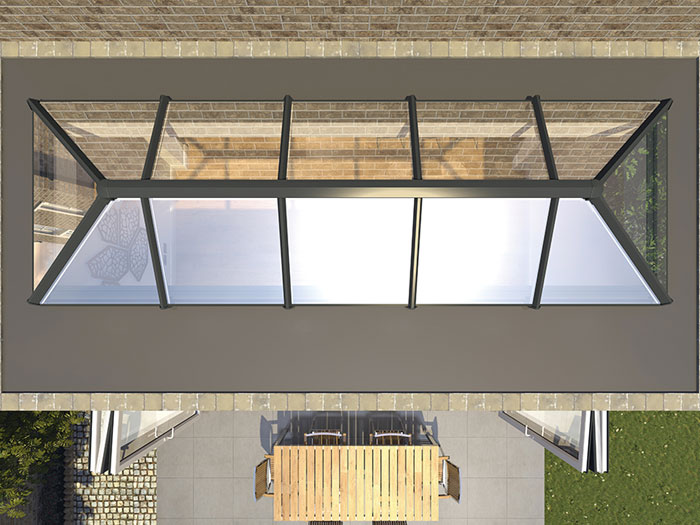 Where can I have a lantern roof?
A lantern roof can be installed into an extension, a conservatory, the living room, dining room, bedroom or kitchen – and is equally beneficial for any of these living spaces. Not only is it stylish, but a lantern roof will make rooms appear brighter and more spacious.
Do I need planning permission for a lantern roof?
You do not normally need planning permission for lantern roofs. However, if in doubt, it is always advisable to check with your local Planning Authority. The other thing to be careful about is that there is a limit to how much glass is allowed in an individual structure, but this is unlikely to be a problem.
When you choose Emerald to install your lantern roof, we will take care of all of the above for you, so you can sit back and leave it all to our trusted team of experts.
What is the difference between a lantern roof and a sky light?
A skylight is a flat window set into the roof at the same angle as the roof. A lantern roof is fitted to a flat roof and projects above the roof, usually in the shape of a pyramid to let light in from all sides.
What are the benefits of a lantern roof?
In addition to aesthetics, a lantern roof will help to insulate against noise and the cold. Our range utilises high performance glazing, which helps to reduce heat loss and noise pollution. If your room needs a little more ventilation, you can opt for the addition roof vent that will let in fresh air – ideal for properties prone to damp and condensation.
Stylish addition to any room or property, whether more traditional or contemporary
Efficient glazing – easy to maintain, sound and weatherproof
Choose various sizes to suit your taste or requirements
Sleek appearance inside and out – and one that won't diminish over time
Great alternative to a conservatory
Allows plenty of light to enter the room
Impressive finish to any extension
Suitable for flat roofs, orangeries and new build extensions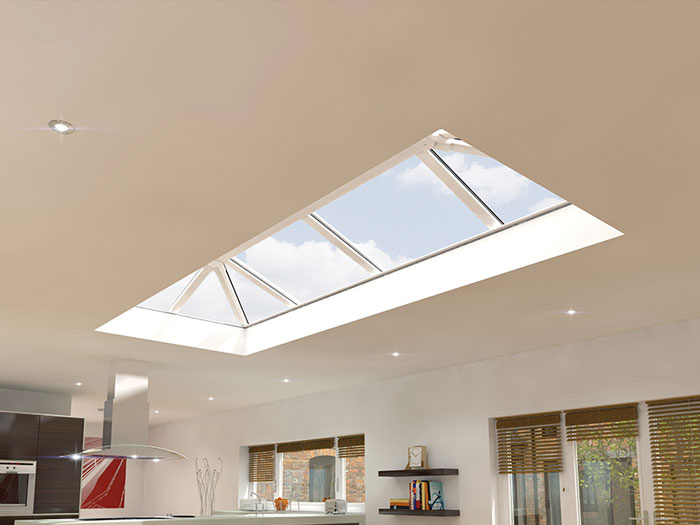 What material can I have my lantern roof?
Our lantern roofs are supplied in a choice of uPVC or aluminium. No matter which material you choose we always guarantee superb quality that you can rely on. Attractive as well as effective, they will stay in pristine condition for years to come. With a wide assortment of colours, you never have to compromise on style. To find out what material would be best suited to your home, talk to our team today or find out more here.
What size lantern roof should I get?
Lantern roofs come in a variety of sizes and each one is individual to the project. You'll need to think about the size of your room and what size would look best in your desired space. Our team are happy to advise and help you make the best decision for your lantern roof size.
Choose a lantern roof from Emerald
Upgrading your home with a lantern roof is a fantastic idea to bring in more light, and make your space feel even bigger, all whilst adding an architectural centre piece.
We hope this guide will help you to decide if a lantern roof is right for your home, however, if you require any further information, or for other home improvement enquiries, please feel free to get in touch. You can call us on 0800 612 4154 or send us an online message.