The parameters for how big an extension can be were due to expire on the 30th of May 2019. However, the UK government decided to make these limits permanent, meaning the maximum size that a single-storey extension can be built without the need to acquire planning permission is as follows:
If living in a terraced home or a semi-detached property, an extension can be up to 6m in length.
For detached properties, however, extensions can be built up to 8m long.
Any extensions should not cover more than half the area of your garden.
The height of any extension should not be more than 4 metres. However, if the extension is located within 2 metres of your property's boundary, it should be no more than 3 metres in height.
It should also be no higher than the highest part of your property's roof.
Although this means planning permission does not need to be sought for extensions that abide by these size limits, large extensions will be subject to what is known as the Neighbour Consultation Scheme instead.
What are the size limits for the Neighbour Consultation Scheme?
When building a large extension, it is essential that you notify the local planning authority. You can do this via the PlanningPortal. This is so they can contact your neighbours to inform them of your plans to extend and determine if they have any objections to them. The size limitations for extensions that require approval through this scheme are as follows:
For detached properties, extensions that extend beyond the rear wall of the property by between 4 and 8 metres.
For other properties, extensions that extend between 3 and 6 metres beyond the rear wall.
What types of extension are available?
So, now you're aware of how big you can build an extension, your next step is to decide which of them is right for you. Fortunately, there are lots of extension options available. Here are some of the more popular forms of them for you to consider: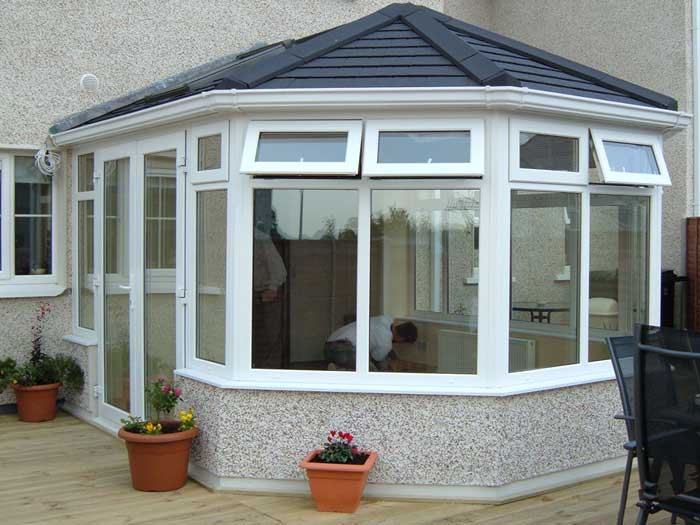 Traditional brick and mortar extensions – although this is the most expensive form of extension, traditional brick and mortar structures can add considerable value to your home.
Conservatories – These largely glazed extensions are an excellent way to give yourself more living space whilst making the most of natural light. Tiled roof variations, which look and feel much more like a traditional extension, are available nowadays too.
Orangeries – combining the best qualities of a conservatory and a traditional extension, orangeries are renowned for their use of natural light and excellent thermal performance. Usually fitted with a stylish lantern roof, like conservatories, they are also available with a tiled roof, giving them a more homely feel.
Thinking about a conservatory for your home but concerned that you might need planning permission? Check out our planning permission for conservatories guide.
Conservatories are a great way to add value to your home using your garden space.
Emerald Windows is a leading installer of conservatories and orangeries based in Swindon. For more information on planning guidance or if you're thinking of extending your home, give us a call on 0800 612 4154 or contact us online.