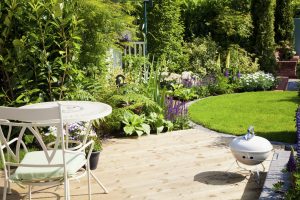 According to property experts and estate agents, an attractive garden can add significant value to your property. If you're planning on selling in the future, then renovating your garden could bring with it a host of benefits. From simple ideas such as keeping it tidy to a new conservatory, your garden is a fantastic untapped resource where you can improve your home for your family and your future. Easily add value to your home with a garden that's loved by the whole family.
Create a garden everyone will love
The style of garden and what you have in it can make or break a house sale. Busy families or young professionals will want an attractive garden they can enjoy but that doesn't require a lot of work. A lawn that children can play on is desirable but too many plants could put off all but the most green-fingered. An easy way to impress with your garden is to add a water feature. These can be inexpensive and add a tranquil feel as well as become a striking focal point.
Add a splash of colour with exotic flowers
As first impressions go, a well-kept lawn is a simple way to improve your home's appearance, especially in the front garden. This is one of the first things guests or potential buyers will notice and can suggest what the rest of your home will be like. Keep the lawn trimmed and do some weeding to keep it looking as loved as possible. Bright colourful plants and flowers will make it look attractive as well as help lift your mood when you spend time in your garden. Painting and repairing tired fences will also help keep you garden looking its best.
Celebrate in style with a garden that always impresses
With so many options for outdoor heating and lighting, garden living is becoming increasingly popular. It's clear to see that people want to spend as much time outside as possible. Adding a patio or some decking allows you to split up your garden into separate areas. This is the ideal place for parties and BBQs. Easy to look after, a patio or decking also takes away some of the need to maintain a lawn which can be time-consuming in the summer.
Add space, style and somewhere to relax
A new conservatory will certainly boost the look of your garden as well as give your family more living space. From a classic gable to a versatile and modern P-shape, a conservatory will transform how you use your home and garden. A few things to bear in mind though; ensure that a conservatory doesn't dwarf your garden. Make sure you still have space to enjoy being outside. Also, chat to a local estate agent to find out what type of conservatories do well in your area. If adding value to your home is important then you don't want to go above your street's ceiling price.
Open up your home with a new door
The doors that lead from your home or conservatory to your garden can make a huge difference to the way you use your garden as well as how other people see it. Sliding patio doors are easy to use and let light fill your home; choose from ultramodern aluminium or efficient uPVC. Bifolding doors can fully open up your space and will make your garden and home merge into one.
The experts for your garden and home improvements
Here at Emerald Windows and Doors, we can help you add value to your home with garden improvements. Get in touch today to see how we can transform your outside space.