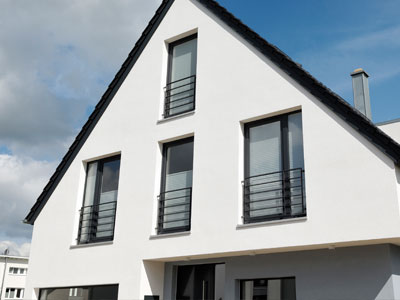 Purchasing a new set of windows can be a difficult decision. With practical and aesthetical needs to consider, choosing either aluminium or uPVC requires careful thought. So to help Wiltshire residents make an informed decision, we've created a comparative list of the two materials.
uPVC Windows
Old uPVC windows were regularly criticised for their inability to retain heat. However, modern versions are able to achieve an A energy efficiency rating. Thanks to their multi-chambered design, they'll keep your home warm and reduce your bills.
Requiring minimal amounts of maintenance, they'll continue to look great with just an occasional wipe down.
Emerald's uPVC windows feature multi-point locking systems and internal beading, ensuring they're rigorously secure – no unwanted intruders with these windows!
uPVC is extremely good for soundproofing homes. This means they're great for keeping any irritating street noises out of your home.
They're incredibly versatile; available in a bountiful supply of colours and finishes, they're easily able to suit any period property.
Durable and robust, there's no chance of rain or wind seeping into your home with a set of uPVC windows.
Timber alternative windows are made from uPVC. Specific timber alternatives are ideal for use in conservation areas, such as the Residence 9 collection. As installers of the Residence 9 collection, we're the ideal choice for Wiltshire homeowners living in conservation areas.
Aluminium Windows
Thanks to their enviously slender sightlines, aluminium windows grant your property serious kerbside appeal. The strength of the material allows aluminium framing to house larger panes of glass too, significantly increasing a home's natural light intake.
Available in a vast amount of colours and finishes, they can be adapted to suit almost any property.
Aluminium is a natural insulator. And, when combined with thermally broken technology, aluminium windows make exceptional insulators. The versions supplied by us at Emerald maintain use of such technology.
The popular choice for use on shark cages, aluminium is an incredibly durable material. Extremely resistant to corrosion too, provided they're taken care of, they should last for at least 30 years.
Similarly to uPVC, aluminium windows will only require the occasional wipe down to keep them looking great.
Aluminium is 100% recyclable. For any Wiltshire homeowners that are particularly eco-conscious, this is worth bearing in mind.
With a multi-point locking system, they secure your home highly effectively.
Upgrading your windows is a fantastic idea, regardless of the material they're made from. We at Emerald hope this list will help you to decide which material is right for your home. However, if you require any further information on either material, or for other home improvement enquiries, please feel free to get in touch. You can call us on 0800 612 4154 or send us an online message.