If you are feeling fed up with your tired-looking front door, you may be tempted to paint straight over it in hopes of sprucing up the front of your home. Before you pick up that paintbrush, have a quick read through our short guide to ensure you are making the right decision.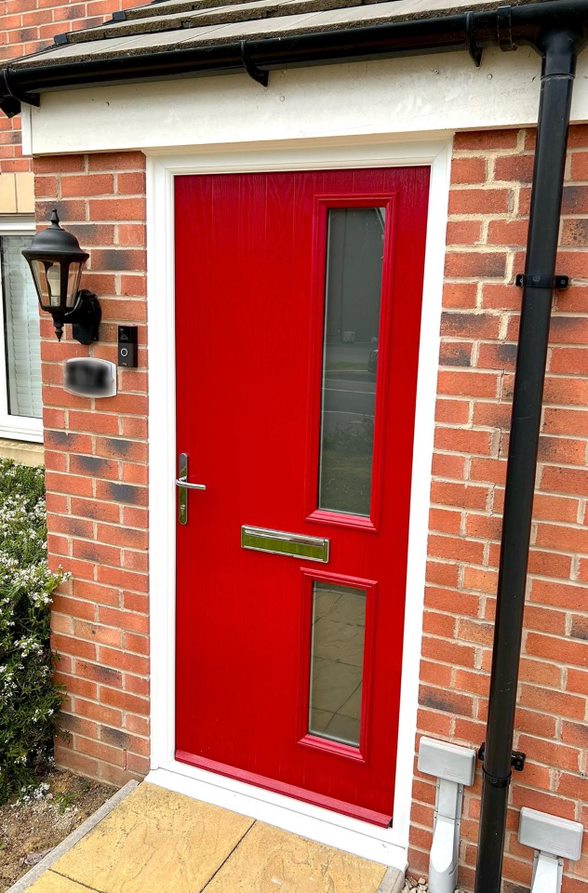 Paint vs Replace
The first thing you may want to consider is how old your existing door is.
If your current front door has been installed within the last 5-10 years, it could be under warranty with the company who originally installed it. This is worth checking as by painting the door, you will likely be voiding the warranty, meaning it would not be covered should anything happen to it.
If you are painting your door because it is faded, this may also be covered under warranty, and you could be owed a replacement slab instead. At Emerald, our door slabs are guaranteed for 10 years. This means that, although extremely rare, if it was to fade within this time then we will replace them with a new one, free of charge.
Despite this, it is possible to paint a newer composite door, but we would not recommend it, as if not done right, you could be potentially ruining a perfectly good door.
If your current door is more than 15 years old, it is most likely made of uPVC or wood. With the correct preparation, both types can certainly be painted on. If done right, it should last for around three years. This is a good option for the short-term, if you want to improve the appearance of your door but are unable to buy a new one.
Do I need to sand down my front door before painting?
For the best result, the door should be sanded down before using any paint, as it will help remove any imperfections and create a smooth surface.
A disadvantage to this though, is that you will be sanding the protective layering and ultimately shortening the door's lifetime.
Can you paint a front door without removing it?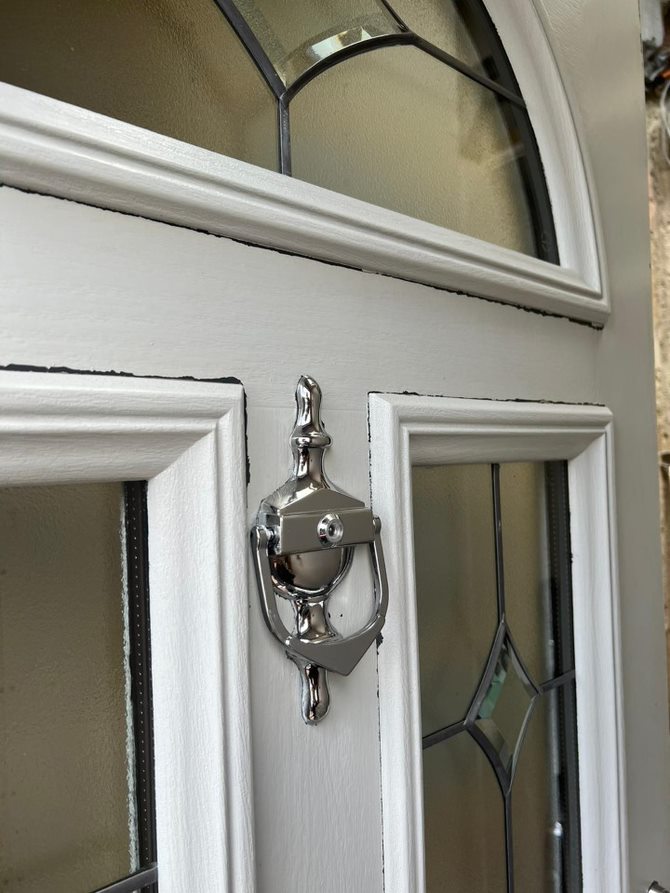 It is possible to paint your door without taking it off its hinges. However, you may not achieve as clean a finish as you would with the door removed. You will have to ensure you have used tape to cover accessories such as hinges, handles, letterplates and glass etc, to avoid getting paint on them.
If you do decide to remove your door to paint, this may reveal some issues with the door when trying to reinstall it, so proceed with caution.
If I paint my front door, will I have to re-paint it later on?
The main drawback to painting your front door is the upkeep it will require. If not touched up, there will be visible chips and cracks that will show over time. At Emerald, we install hundreds of composite doors a year, meaning we come across many old doors that our customers had painted themselves, that have not kept well.
The composite door market has grown and evolved over recent years, making it the undoubted choice for a replacement front door. While painting your door will make it look better temporarily, it will not fix its poor energy efficiency or improve its weak security. These are things that only an upgrade will solve.
5 benefits of a composite door from Emerald
The skins are foiled and not painted. They are designed so that you never have to paint and are guaranteed not to fade over time.
Only minimum maintenance required, just a regular clean.
The skins are designed to reflect away solar heat, so won't crack over time.
Robust skins are less prone to wear & tear, so they withstand the test of time better.
Every door is bespoke made, therefore you can choose any 2 slab colours in any combination, either side of the slab, including colours such as Agate Grey, Chartwell Green, Irish Oak.
Composite front door finance deals in Swindon, Wiltshire
Having been trading in the industry for almost 20 years, we know the benefits of having quality doors, and windows, in your home. With this said, we also understand that quality products do not come cheap.
If you are interested in replacing your front door with Emerald, you can spread the cost monthly over 2 years, completely interest-free, with only a 10% deposit required to order. Contact the team today by calling 0800 612 4154 or via our online form, to find out more.
Related blogs:
Why choose a composite fire door from Emerald
Composite doors vs uPVC doors – which one suits a Swindon home?