Your front door is one of the first things that you, and any visitors, will be greeted with when arriving at your home. As well as introducing your personal style to the front of your home, you can use a replacement door to improve home security, energy conservation, reduce noise and increase natural light. We've put together our top points for homeowners to consider when it comes to replacing their front door.
What are your replacement front door material options?
Here at Emerald, we offer a choice of 3 front door materials, so we are sure there is something to suit your South West home.
uPVC front doors: In addition to being low maintenance, uPVC is a great insulator and incredibly durable, ensuring your home is warm and toasty for many years. uPVC also lends itself to a different number of colours and designs extremely well, ensuring it's easy to find a uPVC front door that meets your specific visual requirements.
Timber front doors: Aside from being naturally beautiful, timber is durable and thermally efficient, making it as good as any construction material. Perfect for any classic properties, we provide timber in a huge selection of shades so it can fit just as well on modern homes.
Composite front door: The most secure and robust door on the market. Built by expertly combining a range of materials, composite front doors have style, security, and excellent insulating properties. With damage and weather-resistant Glass Reinforced Plastic (GRP) skins, which are embossed in a selection of woodgrain textures, emulating the natural beauty of timber has never been easier. Additionally, there's the latest multi-point locks and a highly insulating core in place to keep your home secure and warm.
Will your new front door be energy efficient?
An energy efficient door will keep more heat in your home. The more heat your home retains, the more comfortable your home will be, and you won't need to spend as much on heating it up.
All of our front doors, no matter what material you choose, are capable of achieving A+ energy ratings. Energy ratings go from A-G, with A being the most efficient and G being the least, so you know that investing in a new front door from us will give you the most energy efficient solution for your home.
Is your replacement front door going to be secure?
All of our front doors, whether you opt for timber, uPVC, or composite, offer a range of security features to keep you and your family as safe as possible. However, it's not secret that the most secure door on the market is the composite door.
Our Solidor composite doors come fully loaded with the most advanced best security features. Solidor doors come with the Ultion cylinder fitted as standard. For additional security, Solidor also offers the Avantis lock. This lock features the largest and strongest hook and bolt system in the door sector and is largely considered the most secure on the market. The solid timber door provides an additional layer of protection from intruders.
Kubu Smart Lock compatible composite doors
For even further security, we are now a registered installer for the Kubu Smart Lock as our Dekko composite doors are Kubu compatible.
How many times have you second-guessed whether you locked your front door or not? We've all been there! At Emerald, we strive to keep your home as safe and sound as possible. At the cutting edge of smart home technology, with Kubu, you can say goodbye to uncertainty and hello to safety and peace of mind.
Kubu is a smart sensor that monitors your door lock in real-time, notifying you if your door is locked or unlocked. You can check if your home is secure anytime, anywhere, right from the Kubu App. Effectively monitoring the security of your composite door couldn't be simpler! Benefit from true security, wherever you are, with Emerald and Kubu.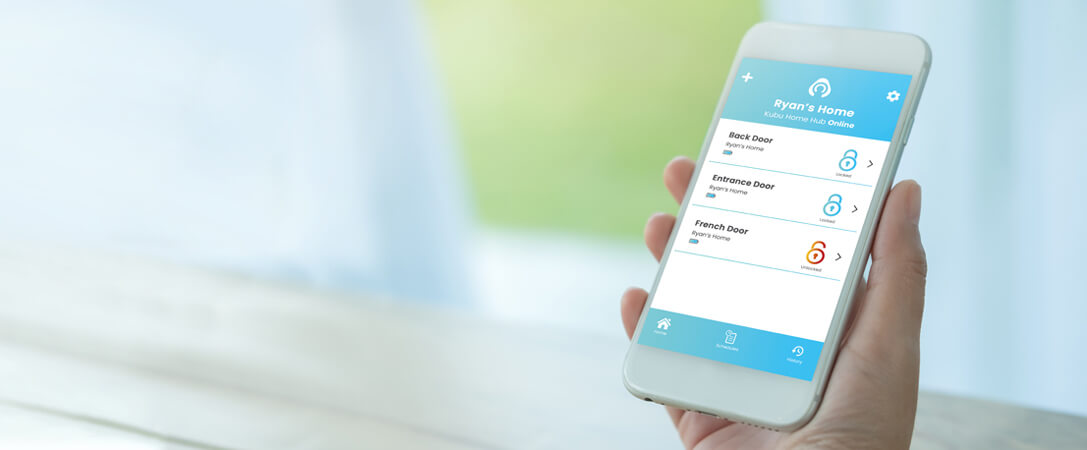 What hardware and glazing is available for your replacement front door?
If the design of your front door includes glass, your glazing choice can completely change the whole look and feel of the front entrance. We offer an array of glazing to suit any home from clear, tinted, frosted, to patterned glass available in double-glazed and triple-glazed units, depending on your chosen front door.
We also have a huge choice of fixtures and fittings to help you complement, or make a contrast, on your new front door. Ask our expert installers about the selection of hardware we have available for the different front door options we have available
You can decide whether you want a larger door handle on a plain door and individually select the details such as door hinges, draught strips, locks etc. With the wide range of door furniture available today, you don't need to compromise on design, there is something for every situation.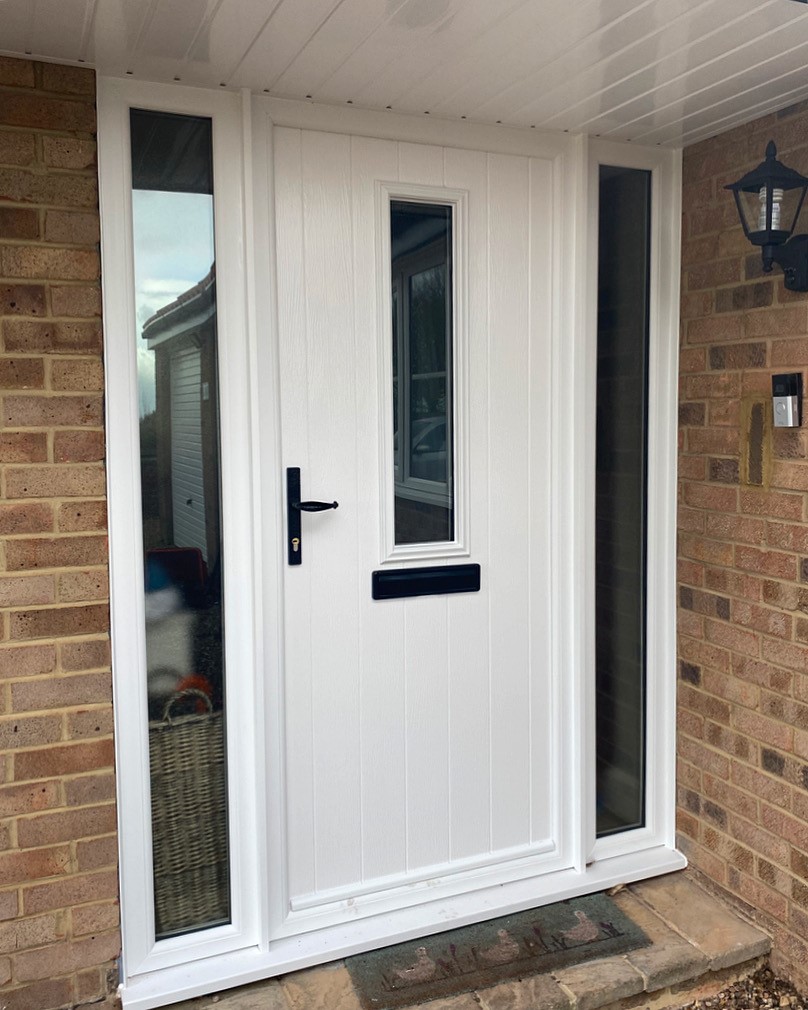 Making an entrance with your front door
Why not try out our online door designer and play around with the different colour combinations available. If there is a colour you would like but cannot find it may be available in another range we offer such as Solidor if so, get in contact with the team directly and allow us to help create your dream door, bespoke to your home.
Choose a new front door from Emerald
Here at Emerald, we are with you every step of the way, from the initial quote through to our aftercare. We have a dedicated aftercare repair service and a 10-year guarantee on all on all of our products. As always, we are eager to help with any home improvement ideas you may have. You can get in touch with us here or give our team a call on 0800 612 4154.
Related blogs:
What colour should I choose for my front door?
Are Solidor doors different from composite doors?