High levels of security and energy efficiency have led to the rise in popularity of composite doors in recent years. Their lengthy lifespan of over 25 years and modern aesthetic has also caught the eyes of homeowners throughout Swindon and beyond.
We've outlined a number of the key characteristics of composite doors and the main difference between those and Solidor doors:
All of them feature an impact resistant, highly durable Glass Reinforced Plastic (GRP) skin. This is highly customisable in a range of colours and woodgrain finishes for a genuine timber aesthetic that will last for years.
The GRP skin is also exceptionally weatherproof, keeping unwanted draughts and rainfall out of your home.
Utilising a highly insulated core, the levels of heat retention are nothing short of spectacular. Whichever you opt for, there's great potential to save on your energy bills.
Featuring the latest in advanced locking technology, your home will be expertly secured from potential intruders.
Solidor composite doors have a core that is 10% thicker than its competitors, for increased levels of durability. Solidor have long been established as industry leaders, but what makes their doors different? Here at Emerald, we have the answers.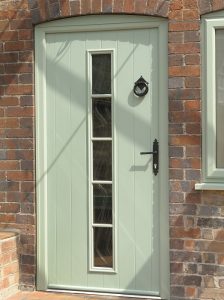 What makes Solidor different?
Born in 2004, Solidor has firmly established itself as the nation's favourite manufacturer and supplier of composite doors. Fitted by our expert installers, the extensive Solidor range of composite doors are widely admired for their stunning design and unparalleled security. No other composite door comes close to competing with Solidor in terms of sophistication and performance.
Insulating timber core
Solidor composite doors feature a solid timber core and are a result of years of development. This solid core provides outstanding thermal efficiency and rigidity. At 48mm, the design of the door is 10% thicker than the nearest competitor. The core is wrapped in a tough, weather resistant ABS skin, which is the same durable plastic as Lego. This layer is made of a solid colour which practically hides any scratches or marks.
Ultimate security
Solidor doors come with the Ultion cylinder fitted as standard. For additional security, Solidor also offers the Avantis lock. This lock features the largest and strongest hook and system in the door sector and is largely considered the most secure on the market. The solid timber door provides an additional layer of protection from intruders.
Unmatched style choices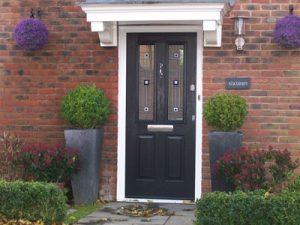 Solidor composite doors are available in a variety of styles and configurations to improve the kerb appeal of any home. With traditional and contemporary styles to choose from, as well as a diverse colour palette, you are guaranteed to find a Solidor door to suit your personal taste and home.
Choose Emerald to install your composite door
Here at Emerald, we are with you every step of the way, from the initial quote through to our aftercare. We have a dedicated aftercare repair service and a 10 year guarantee on all on all of our products. Should you have any issues after your installation, we are only a phone call away.
As always, we are eager to help with any home improvement ideas you may have. You can get in touch with us here or give our team a call on 0800 612 4154.