A well-thought-out combination of windows and front door can have an overwhelmingly positive impact on your home's appearance, whilst a poor one can have the total opposite effect. If you happen to have or want brown windows, you might have wondered which colour the front door should be to match them. So, we've listed a few excellent colour combinations for you to consider.
White front door and brown windows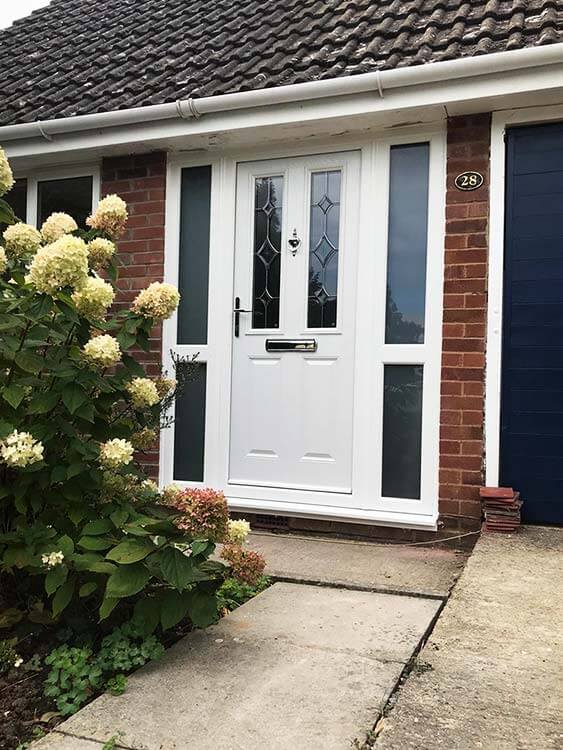 The combination of a crisp, bright white with a rich, warm brown is the perfect way to create contrast between your front door and windows.
Chartwell Green front door
To give your property a fresh, organic vibe, combine your brown windows with a serene Chartwell Green front door. It will give your property a soft but masculine feel and a look that is incredibly sophisticated.
Duck Egg Blue composite front door and brown windows
The combination of soft green and blue, Duck Egg Blue has a beautiful cool tone, which achieves beautiful harmony with the rich warmth of brown. The result is a modern, relaxing finish for your home.
Irish Oak front door
An Irish Oak front door is an excellent way to give the front of your property a soft, welcoming and traditional look. Because it retains brown hues, Irish Oak complements brown windows extremely well too. You might also consider a cream finish instead, especially if your home is more contemporary in style.
Rosewood front door
Colour-wise, a Rosewood front door is about as close to brown as you can get. So, it's the perfect shade for achieving a seamless match between your windows and doors. Rosewood is also a rich, classy shade that retains brown's natural warmth.
Black front door with brown windows
Although many will claim that black and brown don't mix, they're actually quite an effective colour combination. This is especially true if used on the front of your home. In case you didn't know 10 Downing Street also has a black front door, which is symbolic of the colour black's long association with power. So, choose a black front door for your home and give it a striking look.
Alternative colour options
In terms of their colour makeup, rich browns consist of more red, less green and even less blue. Therefore, colours which have lots of blue, less green and very little red compliment brown very well. With that in mind, it's difficult to go wrong with any desaturated blue/green colours for your front door.
If you like the sound of one of the aforementioned colour combinations or have something else in mind for your home, give Emerald Windows a call on 0800 612 4154 today. We provide front doors built from uPVC, timber and composite materials. We also offer a huge range of colour finishes, so you can easily find a front door shade to match brown windows. Alternatively, you can contact us online.