As the winter months creep up on us, and the temperature begins to drop, your old conservatory will become unpleasantly cold again like it always seems to at this time of year. If you, like many homeowners, find the cold kicking you out of your conservatory during winter then read through our short guide to discover ways you can make use of your conservatory this Christmas.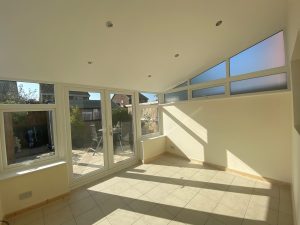 Create heat in your conservatory
One of the most effective ways to create heat in your conservatory is by connecting to the existing central heating system and installing radiators to serve as a permanent heat source. If you are looking for a quick fix, portable electric heaters may be more appropriate as they are a cheaper and hassle-free alternative.
If it is within the budget, consider underfloor heating as a long-term solution that can guarantee to contribute greatly to the warmth of your conservatory.
Although heaters and quality flooring can help improve the warmth of your conservatory, their effects are limited when challenged with an older conservatory that does not have the insulation to retain heat well. With this said, an old conservatory can only truly be transformed when replaced with efficient glazing and roofing.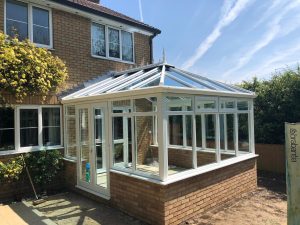 Double glazing for your conservatory
A lot of the heat from your conservatory will currently be escaping through your old and underperforming glass and it is because of this that makes updating your glass a worthy consideration. Choosing the right glazing plays a big role in the overall energy efficiency of your conservatory and will greatly improve its thermal performance. High quality double glazing paired with durable frames will have a drastic impact on the temperature regulation of your conservatory. At Emerald, our frames can achieve excellent energy ratings of A+, meaning they offer superior thermal efficiency that the outdated frames in your existing conservatory cannot match.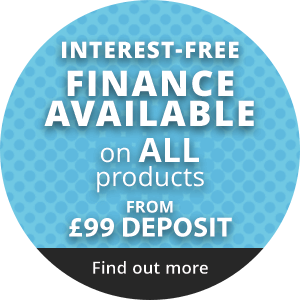 Replace your conservatory roof
The potential number one reason your conservatory is unbearably cold in the winter months (and too hot in the summer) is that it has a polycarbonate roof. Polycarbonate roofs have very few insulating properties, therefore allowing all of the heat to escape and allowing too much to enter in the summer. Ignoring this and attempting to make your conservatory warmer in other ways will only result in wasted money in the long term. The only true lasting solution is a replacement roof which is a worthwhile investment for those serious about making the most out of their conservatory.
At Emerald, both our glazed and tiled roof options are a popular choice for modern homes, and it is worth considering both options to help decide which best suits your requirements. Emerald's Warm Tiled Roofs have superb thermal performance which regulates the temperature, so it is comfortable all year round. Find out more about our glazed and tiled roof options here.
Give the team a call on 0800 612 4154 to find out how Emerald can help you get started on your home improvement project today or leave your details and we will be in contact.