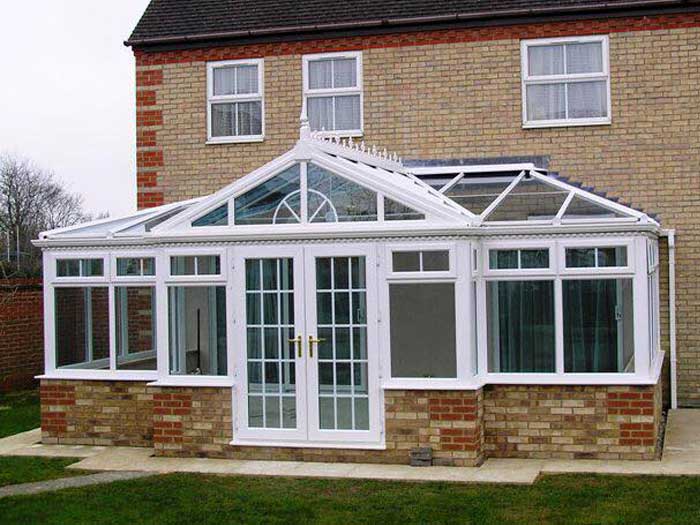 Whilst uPVC conservatories are regular features on residences all over the UK, how long they last will depend on a variety of factors. If you'd like to learn more about what these are and how you can increase their lifespan, then we've got you covered; for this short post, we've delved into both areas.
Lifespan of uPVC framing
Generally, modern uPVC windows are expected to last between 20-25 years, but some can last for decades, provided they're taken care of and the materials used are of good quality. The finish on uPVC tends to last longer nowadays too, thanks to improvements in colour technology.
Conservatory roofing
Conservatory roofs tend to be constructed from either glass, polycarbonate or tiles. However, they're not all expected to last for the same amount of time.
Glass and polycarbonate roofs
Both polycarbonate and glass roofs should last for at least 20 years if they've been installed properly and receive the necessary upkeep.
Tiled roofs
Tiled roofs are expected to last for 50 years, so significantly longer than glass or polycarbonate variants. As they require virtually no maintenance, they're also unlikely to take any damage that may occur during cleaning. A tiled roof from Emerald also comes with a 20-year manufacturer's guarantee.
Using a reputable company
It's imperative that you use a reputable company when having a conservatory installed. A company with a poor reputation is likely to use materials of lower quality, whilst installations are likely to be below the correct standard. Both of these can contribute to a shorter life. A good indicator of a reputable company is whether or not they're able to offer you a 10-year guarantee on their conservatory installations like we do here at Emerald.
Maintenance
Ensuring uPVC conservatories are properly maintained will also increase lifespan. This means performing cleaning when it's required and attempting to keep components in working order. Badly maintained conservatories are likely to experience faults, which can be detrimental to a longer life.
Location
Whilst a south-facing conservatory is great, particularly if it's being used as a sunroom, the continuous sun exposure will have a negative effect on a conservatory's lifespan. The same can be said for conservatories which are more exposed to the wind and rain.
Replacing individual conservatory parts
You can prolong the lifespan of uPVC conservatories by replacing individual components, as and when new ones are required. A replacement conservatory roof is a popular part that you may replace; you can opt for either glass or tiled roof, depending on your preferences. However, be sure to use a reputable installer, like Emerald. As previously mentioned, this is important for any replacement part, regardless of whether it's a new roof, door or window.
Insulation
One reason why it's useful to replace old components is because they're likely to improve the insulation levels of a conservatory. Older components tend to have lost some of their insulating qualities, meaning condensation is able to build-up easier. Increased amounts of condensation can lead to mould build-up, which can reduce the lifespan of windows and doors. Mould is also no good for your health.
Are you a homeowner looking to get the most out of your home? Get in touch with Emerald Windows today. We provide a fantastic range of home-improvement products and can advise you on how best to enhance your property. You can call us on 0800 612 4154 or send us an online message.