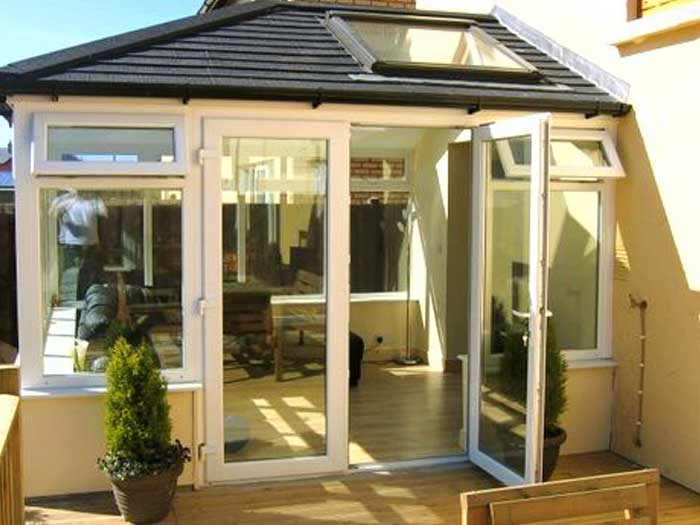 Conservatories are meant to be a haven from the outside world, a safe place where you can unwind. However, if your conservatory roof is leaking, and letting too much of the outside in, what should you do? Common solutions are:
Replacing poorly insulated roof vents
Replacing damaged or slipped roof panels
Securely fitting lead flashing
Of course, it all depends on what is causing the conservatory to leak. So, let's start there:
Why is my conservatory roof leaking?
Older polycarbonate roofs can wear out over time and can start to let rain in. If ignored, this can lead to damp and mould. This can cause both unwanted stress and also potential long-term health problems. Unwanted water can also damage your furniture and flooring and more importantly your electrics!
When inspecting your leaking conservatory, look out for the following:
ARE THE CONSERVATORY ROOF VENTS PROPERLY INSULATED?
Conservatory roof vents are a great way of letting air into your conservatory. If you have a solid conservatory roof, they also let in lots of natural light. However, if your conservatory roof vents are poorly insulated, they can let in the rain, as well as draughts, causing unwanted leaks.
DAMAGED OR SLIPPED CONSERVATORY ROOF PANELS
Check your conservatory roof panels. Have they slipped or moved? If they have, they can expose a gap in your roof, causing your conservatory to leak.
IS THE LEAD FLASHING FITTED SECURELY?
If your conservatory roof is leaking at the point where it joins the house, faulty lead flashing could be the problem. Carefully inspect the lead flashing. Is it fitted properly? Does it fully cover the join between your house and the conservatory?
So what can you do about your leaking conservatory roof?
If you can see that the leak is coming from your conservatory roof vents, slipped tiles or lead flashing, this can often be easily fixed. It's very important that, unless you're a conservatory professional, you don't attempt to fix your leaking conservatory roof yourself. It's always best to use an expert, as they can quickly find the cause of the problem. Similarly, any damage caused by someone unqualified could be harder to fix. It could also affect your insurance, as many insurance companies won't pay out for damage that is self-inflicted. Lastly, it can be dangerous if you're not 100% sure what you're doing.
However, if you can't find where water is coming in, or your conservatory roof is leaking in the centre, it might be time for a replacement conservatory roof.
Does house insurance cover conservatories?
Provided you have informed your insurer, conservatories should be covered by building insurance because they become a part of the building structure. However, building insurance tends to cover sudden damage. This means a leaking conservatory roof caused by general wear and tear or neglect may not be covered. To find out if you are covered, you will need to check the contents of your insurance policy.
If you chose a reputable installer, like Emerald, you should have received a 10-year guarantee on your conservatory installation. If your conservatory roof leaks during this time, it should be covered by this guarantee.
Quick-fire leaking conservatory roof FAQs
Q: Can I stand on the conservatory roof to locate the leak?
A: No! It's highly dangerous to try to stand, walk or crawl on your conservatory roof as its lightweight structure isn't made for load-bearing. If in doubt, call a reliable double glazing expert.
Q: How much will it cost to fix a leaky conservatory roof?
A: It all depends on how big the leak is and if it can be repaired, or if the whole roof needs to be replaced. Contact Emerald to book an appointment and check out our finance options too.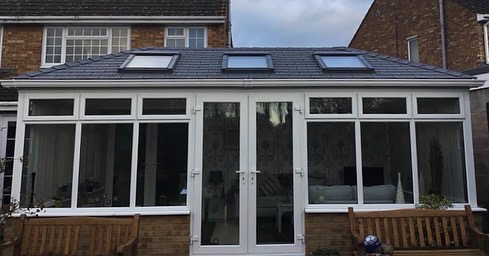 Replacement conservatory roofs in Swindon
Here at Emerald Windows and Doors, we can fit a replacement conservatory roof for you. For example, a tiled roof for your conservatory that gives you shade, insulation, and style. Or maybe a crystal efficient glass roof or orangery style roof, that keeps out the cold and floods your conservatory with natural light. Whatever the choice, at Emerald Windows and Doors, we only use the highest quality, strong, and watertight materials. Get in touch with us today and let us replace your leaking conservatory roof.
Related to this topic: 5 signs it's time to replace your conservatory roof