They say all good things must come to an end. This saying might even apply to your trusty conservatory roof, but fortunately for you it just represents an opportunity to make a much-needed upgrade. How do you know when it's time to replace your conservatory roof though? If you find any of these signs to be familiar, then perhaps it's time you considered a replacement.
A leaky conservatory roof
Perhaps the most obvious culprit and one that tends to appear early on – leaking.
A leaking roof isn't only detrimental to the conservatory itself, but also to your furniture and belongings within. You might think it isn't a big issue and you'll just need to patch up the area of the roof or frame that the leak is stemming from, but this won't stop the risk of it happening again in the future thanks to the deteriorating materials. A replacement conservatory roof from Emerald Warm Roof Systems will be sure to avoid this problem as they're made from the highest quality materials.
Cold drafts coming through
If you can't bear to be in your conservatory thanks to cold drafts making you shiver, it's a definite sign that your conservatory roof has seen better days. A common reason that drafts may start to manifest is because the sealant has begun to wear out or was never applied professionally in the first place. You might also be experiencing cold chills because your conservatory roof is just single glazed, which is commonplace for older conservatories. Our conservatory roofs aren't susceptible to drafts as they're installed by professionals who ensure that no gaps are left when the roof is installed.
Frequent condensation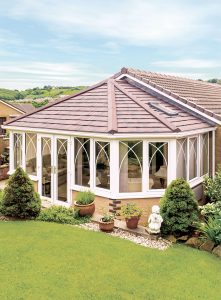 Whilst condensation itself isn't an uncommon problem for the majority of conservatories, it becomes a problem when you notice it persistently cropping up time and time again. The quality of your conservatory roof plays a big part in how often your conservatory will build up condensation. You might think that condensation itself isn't a big issue but repeated instances of it can lead to mould, which not only damages the overall appearance of your conservatory but can be bad for your lungs too. Thanks to the thermal efficiency of both our tiled and glass roofs, the chance of condensation occurring is largely reduced.
Your conservatory roof is polycarbonate
Whilst the design of conservatories has remained more or less the same since their popularisation in the 70s and 80s, the materials used in their construction have improved with the advancements in construction. Many older conservatories have a polycarbonate roof, which is no longer the standard due to a variety of reasons. If your conservatory roof is polycarbonate then you're missing out on the wealth of benefits that come with a modern glass conservatory roof. For instance, polycarbonate roofs aren't as good at keeping the sound of rain out and are much less thermally efficient. The best replacement for a polycarbonate roof is a glass or tiled roof as they're a modern alternative with a whole host of benefits.
Damaged looking frames or roof
Sometimes you can tell that something needs replacing just by looking at it. When it comes to a conservatory roof, the wear and tear is likely to be visible. Look at the frames of your conservatory roof and see if there are cracks or mould spots. Cracks might also be visible on the roofing itself and if this is the case you should immediately look to replace it before it worsens.
Worthwhile conservatory roof replacements from Emerald Warm Roof Systems
If you now know that your conservatory roof needs replacing, you might be asking yourself what a worthy replacement is. At Emerald Warm Roof Systems we offer both tiled and glass conservatory roofs, both of which will make your conservatory a more comfortable place to be all year round. Emerald Warm Roof Systems also offers a wide variety of windows, doors, and home extensions. For more information, make an enquiry or browse our website.