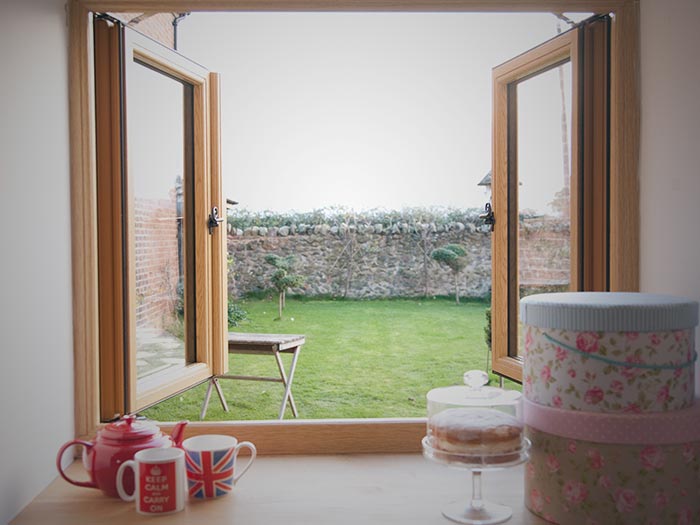 In the not so distant past, wood was the sole material used for window frames. And although wood is still used today, uPVC is now used to create windows that match the designs of traditional timber versions. But the question is, are these timber effect windows better than the real thing? Let's take a closer look and find out.
Will timber effect windows rot?
Wooden windows commonly experience rot, especially those in moisture-rich areas. If the amount of rot is severe, the integrity of the window can be compromised, which is a big security risk. To properly rectify cases of severe rot, a replacement window might be required. Conversely, uPVC is immune to rotting, meaning wood effect windows will not suffer from this issue. Termites, the small, pesky insects that eat wood, can also be a problem for timber windows.
Do uPVC windows require less upkeep than timber?
In order to prevent timber windows from succumbing to rot, they need to be retreated every few years. Factoring this in along with the time spent to clean them and the number of windows on your house, you'll end up spending a lot of your spare time taking care of them. However, because of the wipe clean nature of uPVC, all timber effect windows will require is the odd wipe down to keep looking their best. This will leave you with more free time to spend as you please.
Do timber windows look better than uPVC?
Quite frankly, wood is a beautiful material, meaning a set of real wood windows will bring the added benefit of improving your home's visual appeal. However, wood effect window frames are finished in high-quality woodgrain foils. These allow them to replicate the appearance of actual timber grains incredibly well. The Residence Collection have also been designed to the dimensions of 19th-century timber windows, ensuring they look just as good as the real thing.
Can I have uPVC windows in conservation areas?
If you live in a conservation area or a listed building and you currently have timber windows, you may only be able to replace them with a like for like replacement. However, this isn't always the case because timber effect windows are regularly approved for use in these areas too.
Is uPVC a better insulator than timber?
Real wood windows and timber effect windows are extremely difficult to separate in terms of thermal efficiency. This is because timber is a natural insulator, meaning heat does not easily pass through it. Plus, timber effect windows use multi-chambered profiles which trap plenty of heat, ensuring for a warm home.
Are timber windows more secure than uPVC windows?
Both wood and uPVC are strong materials, meaning security levels are more dependent on the security hardware in use. Multi-point locks are renowned for being rigorously secure, so keep an eye out for these. The timber effect windows that Emerald supply have all been fitted with them as standard.
Emerald Windows is an expert installer of windows, doors and conservatories based in Swindon. If you'd like to find out how we can improve your home, get in touch today. We're currently offering a 20% discount on every quote to celebrate our 20th year of trading