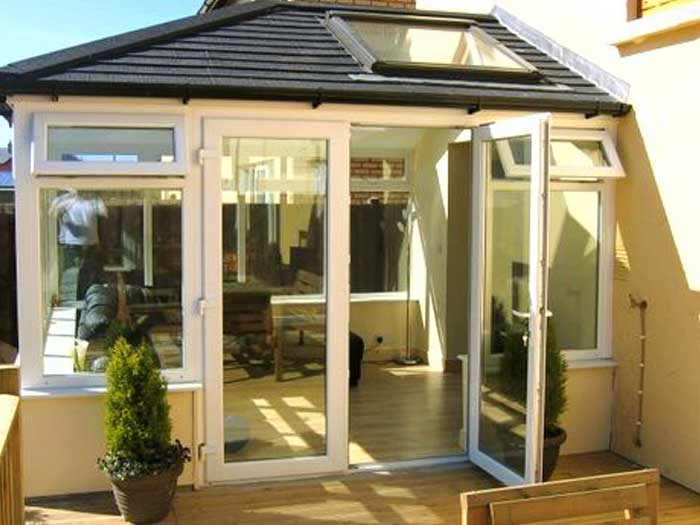 Is your conservatory leaking when it rains? Are you abandoning it as it's too hot in the summer and too cold in the winter? If the answer is yes, this means you're probably not even using your conservatory for half the year. This isn't an efficient use of space in your home. With a replacement conservatory roof, you can transform it into a room the whole family will love using all year.
Bring your conservatory back to life
The original polycarbonate roof that conservatories first had aren't up to scratch anymore. Incredibly noisy when it rains, they also quickly become inefficient. As soon as extreme temperatures arrive, your conservatory turns into a freezer or greenhouse. Many are also translucent, not clear so don't let as much light in and are not as aesthetically pleasing as glass.
Enjoy a bright and welcoming atmosphere
A modern glass roof gives you crystal clear views as well as loads of natural light. With energy efficient glass, glare from the sun is reduced and only the right amount of light is let in, so your conservatory won't overheat. Our glass conservatory roofs are draught-free and won't let any of your heat escape. You can also choose self-cleaning glass which uses the sun's energy to clean debris and dust. Your roof will always stay looking as good as new. With a glass roof, as well as enjoying beautiful blue skies in the day, enjoy some stargazing once the night draws in.
Stay shaded with a solid roof
If you want the most innovative conservatory roof, choose a Guardian warm roof. This solid roof has an attractive tiled appearance that will flow with the rest of your home. With insulating tiles that keep your warmth in, even in the depths of winter you'll be comfortable. Due to having no glass (unless you have rooflights) you won't overheat as the roof will keep you shaded against the sun's strong rays. As well as looking like the rest of your home, a solid roof will make your conservatory feel like a permanent extension. They can be fitted onto existing structures as well as new ones.
Love your conservatory again
In the long-run, a replacement conservatory roof is much better for you than a repair. Most of the issues a conservatory suffers from can't be easily repaired and you'll probably find that your original roof isn't efficient anymore. A new roof will increase your conservatory's comfort levels as well as your home's value. Bring your conservatory back to life and let the whole family enjoy it, whatever you use it for. No longer does it need to be a room reserved for occasional use, why not make it your main lounge with gorgeous views? Or perhaps a playroom to give the children a dedicated space.
Replacement conservatory roof specialists
As well as offering replacement conservatory roofs, we can create stunning glazed extensions for your home. Available in any style from the elegant Victorian to the spacious P-shape, our uPVC conservatories will transform your space. Get in touch today to find out how Emerald Windows and Doors can enhance your home.