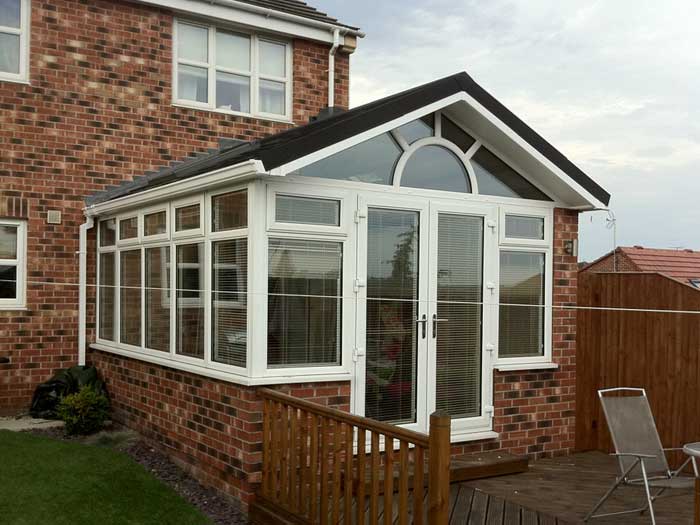 The popularity of conservatories has remained steady over the last 250 years, with many homeowners seeing the benefit of an extra living space. One factor that makes modern conservatories particularly impressive is the roof systems now used.
Conservatory roofs today, whether tiled or glazed, offer serious performance enhancements when compared to extensions installed over 10 years ago. One of the best options available is a Guardian Warm Roof, which is ideal for conservatory roof replacement.
A roof fit for modern family life
Chances are, you are using your conservatory for storage, or just as somewhere to keep your muddy shoes. Sound familiar? That is where a Guardian Warm Roof comes in.
Featuring lightweight solid tiles, a Guardian Warm Roof seriously improves thermal performance. They resolve the issue of the space being too cold in Winter and too stuffy in Winter. Heat is retained, and some sunlight reflected – an ideal combination for optimum comfort.
Matched perfectly to your home
With a choose of tile styles, the Guardian Warm Roof will fit in with the existing character of your home. Internally, your living space will be updated with your choice of plaster of a timber/uPVC finish.
Not only will energy performance be enhanced, but your conservatory will feel like an original part of your home, rather than an after-thought. This is because the solid roof gives the feel of a more permanent structure.
Add value to your home
Whether you are thinking of selling your home soon, or just want peace of mind for the future, a Guardian Warm Roof can add serious value. A key selling point to entice property buyers, additional living space is a must for current homes, especially if it offers an abundance of light, privacy and flexibility.
Expert conservatory roof replacement from Emerald
For one of the market leading roof systems on the market, it makes sense to choose a Guardian Warm Roof. Yet the benefits will only be seen if the roof is installed by a team of experts.
Fortunately, if you live in Swindon, Reading, Bristol, Cheltenham or further afield, Emerald's team of experts are on hand to offer a quick and simple Guardian Warm Roof installation – with our skill, you could be enjoying your living space just in time for that special family occasion!
Areas we serve
We are based in Swindon, Wiltshire – serving Swindon, Bath, Melksham, Cheltenham, Gloucestershire, Marlborough, Oxford, Reading and Bristol. Additionally, we are also able to serve places within 1 hour radius of Swindon.