If you're thinking about selling your home, older windows might deter buyers who are looking for something move-in ready and more energy-efficient. We have put together a list of benefits you will receive when you replace your old windows to increase saleability.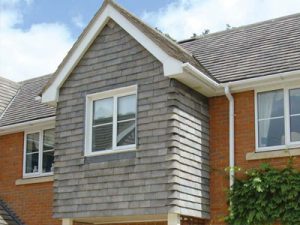 New windows will improve energy efficiency
New energy-efficient windows are a great selling point. According to consumer reports, energy efficiency was ranked as extremely important by 56% of buyers. Making your windows more energy efficient will reduce your home's energy bills, and lower its impact on the environment, which are both desirable benefits to potential buyers.
All of our windows are capable of achieving an 'A' energy rating, so no matter what style property you have, we have an energy efficient window replacement solution for you. Available in a choice of uPVC, aluminium, or timber effect, with the option to upgrade to triple glazing, a great return on investment is guaranteed.
New windows will give your home kerb appeal
The benefits of new windows aren't only functional. New windows are a cosmetic improvement that increases your homes kerb appeal. Whether buyers are conducting their house hunt online, or driving through your neighbourhood, how your home looks from the street can make or break a buyer's first impression. Homes with new, aesthetically pleasing, windows will be far more appealing to buyers than a home that has windows that look tired or damaged. You can find the perfect style and material for your new windows here.
Replacing your windows improves sound proofing
Newer windows can help block out noise. If you live near a school, train station, an airport or a busy street, replacing windows with double, or triple, glazing can ease buyers' worries about noise pollution.
As standard, we inject the gaps between the panes in all of our glazing with argon gas. Argon gas is far more viscous than air alone and so sound struggles to transfer through from the outside into your home. This also enhances the energy efficiency of your windows as argon gas prevents and slows heat leaving your home, acting as a fantastic thermal barrier.
Window replacements to enhance your home
You should replace your windows if you foresee the old windows becoming an issue during your sale process. Old windows can raise red flags during a buyer's inspection and may negatively affect your listing price. A home with outdated windows could still sell, but expect negotiations from buyers to cover the cost of window replacements.
Our expert team will be more than happy to help with any questions you may have regarding your window replacement and will help you make your decision stress and hassle-free. Get in contact with us today by completing our contact form or giving us a call on 01793 700142