Conservatories can add value to your home and create a brand-new living space, however a conservatory is nothing without a good roof. This is why here at Emerald, we understand the importance of deciding the type that compliments your home and suits your lifestyle best.
Is your conservatory roof over 10 years old? Conservatory roofs today, whether tiled or glazed, offer significant performance enhancements compared to extensions installed over 10 years ago.  All conservatory roofs in the UK had to be at least 75% constructed from glazed materials up to 2010, meaning that a lot of old conservatories were built with cheap polycarbonate which has poor thermal efficiency, making them too hot in the summer and too cold in the winter. Fortunately, Building Regulations have now changed, so your conservatory roof material options have vastly grown. At Emerald, we believe one of the best options available is a Guardian Warm Roof.
So why choose a tiled Guardian Warm Roof?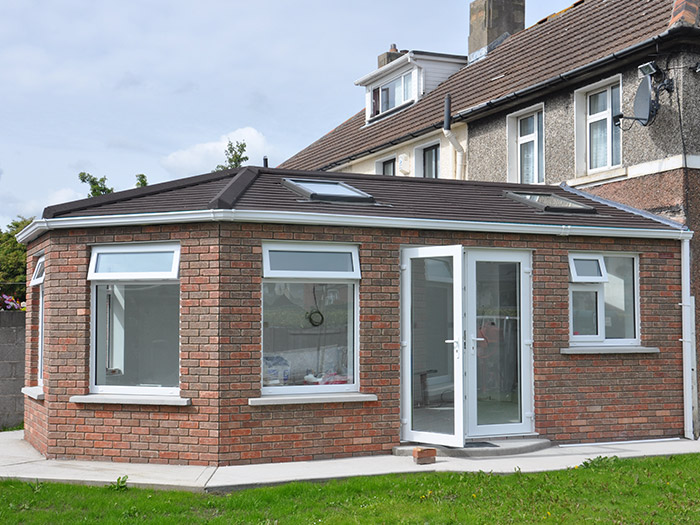 The Guardian Warm Roof is the market leader for a high performance, lightweight roof replacement system. It can dramatically transform your new or existing conservatory into a space that can be used whatever the weather. The added layers of insulation in the roof structure regulate the temperature, allowing you to enjoy your conservatory all year round.
When the winter months come around, you will benefit from a significant reduction in your heating bills compared to a conservatory with a glass or polycarbonate roof. The addition of a tiled roof not only improves the thermal efficiency of your conservatory, but also improves the acoustics of your conservatory and will create a quiet and calm living space, even eliminating heavy rain noise.
Hardwearing tiles that come in a finish to suit you
The Guardian Warm Roof comes in a variety of colours and textures which have proven to exhibit virtually no fade when tested against high UV exposure. The range of colours allows you to match and blend with the existing style of your home.
Guardian Tile is made from lightweight high-grade steel and contains a unique feature that leaves no nails exposed to corrosion. The shingles interlock into each other which eliminates lifting from the wind and allows the roof to have a pitch as low as 10 degrees. Tiled roofs are tough and independent, which means that upkeep is low and that they'll typically last at least 50 years, and so are a worthy investment for your home.
Still not quite convinced? Have a look for yourself at one of Emerald's recent roof transformations in North Swindon, of an old polycarbonate roof replaced with a Guardian Warm Roof. This customer decided to have Burnt Umber tile.


Thinking of replacing your conservatory roof, or simply want to know more? Contact one of the team at Emerald Windows today by calling us on 0800 612 4154 or contact us online and see how we can help you today.