If you've been thinking of buying a conservatory or you already have one that is fitted with a polycarbonate roof, you may have wondered if a glass conservatory roof would be better. As conservatory specialists for over 20 years, we'd thought we'd look into the issue so you can discover which is best for you.
Is polycarbonate more durable than glass?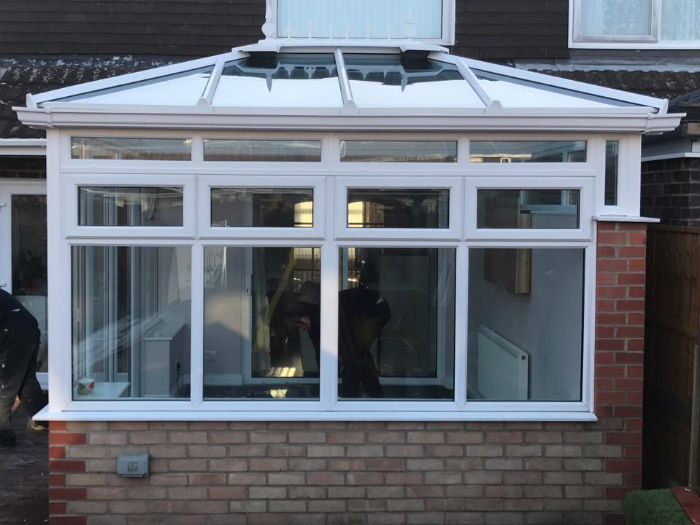 Polycarbonate is a durable material but it is more prone to scratching than glass. Over time, polycarbonate roofs are also more susceptible to weather damage. During periods of harsh weather, this can eventually cause them to leak, allowing water to make its way into your conservatory.
However, modern glass conservatory roofs are very robust and they stand up to severe weather conditions well. This includes large volumes of rain and snow along with high-speed winds.
In terms of estimated lifespan, glass roofs have the edge over polycarbonate varieties too; glass can be expected to last for more than 20 years, whilst polycarbonate roofs usually last between 10 and 15.
Do glass conservatory roofs cost more than polycarbonate?
Although it is true that polycarbonate roofs cost less to fit initially, because they offer inferior conservatory insulation, you will need to spend more fuelling radiators and other heat sources in order keep your conservatory at a comfortable temperature during the colder months.
However, despite costing more to install, the superior thermal performance of glass roofs means that you can enjoy a warmer conservatory for less. As glass roofs are the more durable of the two options, there's an increasing likelihood that you'll have to replace a polycarbonate conservatory roof sooner than a glass one too, which will, of course, cost additional expense.
Do polycarbonate conservatories overheat in the summer?
Sadly, polycarbonate roof's inability to maintain a comfortable temperature in a conservatory is not solely limited to the wintertime. They offer no protection against heat gain, meaning polycarbonate roof conservatories often overheat when the sun is out. On extremely warm days, they can make conservatories unbearably hot to be inside.
However, the glass roofs of today are able to reflect UV rays from the sun, significantly reducing the effects of heat gain in conservatories and, subsequently, the chance of them overheating.
Which type of conservatory roof lets in the most light?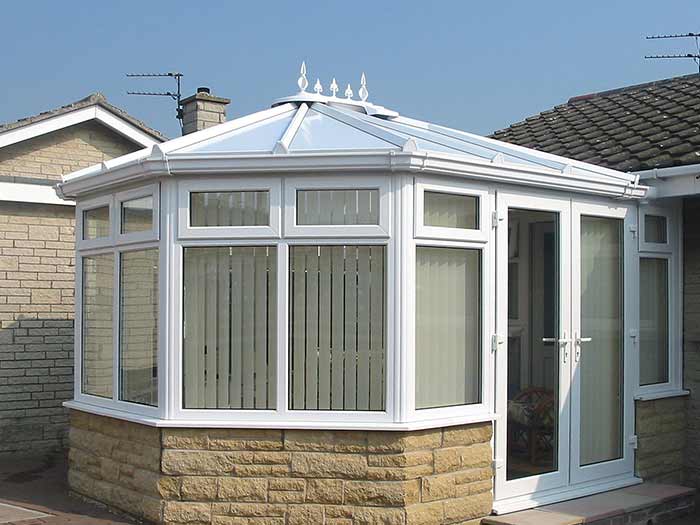 Polycarbonate is opaque whilst a glass roof is clear, which means that glass roofs allow more light into conservatories, creating brighter-looking living spaces. Because they allow more light to makes its way inside the conservatory and are better at maintaining a consistent temperature, this means that they're a much better option for anyone who is planning to keep plants in their conservatory.
However, tinted options are available for both glass and polycarbonate roofs, so you can allow more or less light in to suit your individual requirements.
Are glass roofs quieter than polycarbonate ones?
One common issue that homeowners have with polycarbonate roofs is that they offer very little in terms of noise reduction. Heavy rain and strong winds can easily be heard when inside the conservatory, making it difficult for some people to relax.
Glass roofs, on the other hand, offer far superior noise reduction. Whilst the sound of rain and heavy winds will still be audible with them, it will not be loud enough for it to interfere with how you enjoy your conservatory.
Which conservatory roof requires the most maintenance?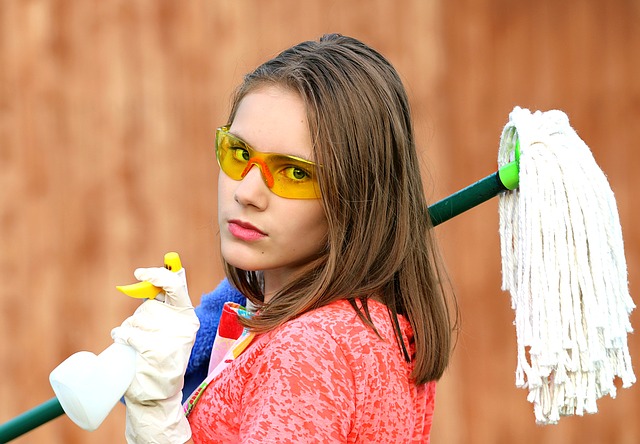 Although their opaqueness makes it difficult to detect any visible dirt/grime, polycarbonate roofs are prone to a build-up of mould. This means that to keep them looking their best, you will need to clean them with relative frequency.
The clarity of glass roofs means that it's easier to spot any dirt or grime that has accumulated on them from below. However, self-cleaning varieties of glass roof are available. These have a special coating on them which breaks down organic dirt when it reacts with Ultra-Violet rays before it's washed away by rainfall. Also, polycarbonate roofs are not self-cleaning, so even though it's harder to spot the dirt on them, this doesn't mean it's not there and won't need scrubbing off.
Do glass roofs look better than polycarbonate?
Whilst beauty is, of course, in the eye of the beholder, it goes without saying that opaque polycarbonate does not exude a feeling of luxury, as well as crystal-clear glass, does. This clarity comes with the added bonus of allowing you to stargaze at night if you wish.
So which one is right for my home?
This will depend on your individual requirements. If you only plan to use your conservatory during certain times of the year and you'd like to save yourself some money initially, a polycarbonate might be the best option for you.
However, in terms of long-term value, a glass roof really is the clear winner. Not only can you enjoy a comfortable conservatory throughout the year along but by opting for a self-cleaning variant, you can forget about the need perform roof upkeep too.
Are there any alternatives available?
Perhaps you don't think a glass or polycarbonate roof is right for your home and you'd like to explore other alternatives. If this sounds like you then you should definitely consider a tiled roof conservatory instead and here's why:
Not only are tiled roofs virtually maintenance-free but they also achieve the best thermal performance out of any conservatory roofing solution – an amazing U-value of just 0.18 W/m2
Although they do not offer as much light intake as glass or polycarbonate roofs, you can have them fitted with roof windows so your conservatory will still be nicely lit.
Another great thing about them is that they can be retrofitted to most conservatories, regardless of their size and shape. So, if you have an old glass or polycarbonate roof conservatory, chances are you'll be able to transform it.
Thinking of replacing your conservatory roof? Contact Emerald Windows today
If you're unhappy with the look and performance of your conservatory and want to replace its roof with either a stylish glass or ultra-efficient tiled variant, give Emerald Windows a call on 0800 612 4154 or contact us online. And if you'd prefer a brand-new conservatory instead, we can help here too.