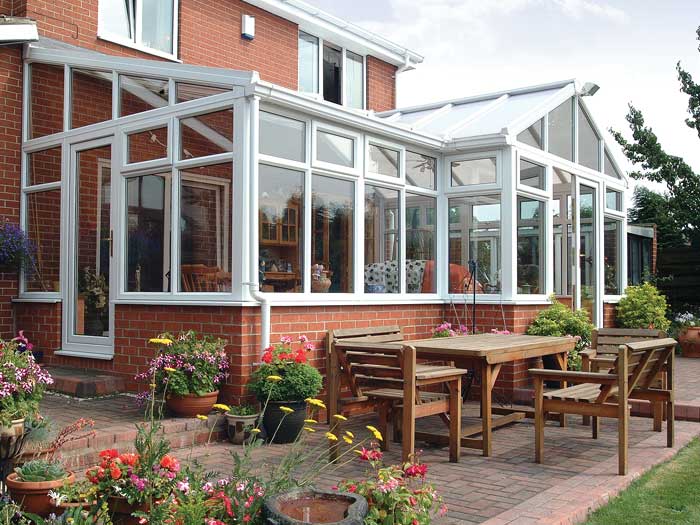 As one of the leading installers of conservatories in Swindon, we at Emerald appreciate that it can be important to keep them looking their best. So, in order to help you keep yours looking great, we've compiled a list of 7 tips for cleaning your conservatory.
Consider a ladder
A sturdy step ladder should be the first consideration when cleaning your conservatory. Acquiring one will enable you to clear the gutters and get to harder to reach areas. Most importantly, it will allow you to see what you're doing.
Never stand on the conservatory roof!
As they're not designed to be load bearing, under no circumstances should you stand on your conservatory roof – this is unless you plan on going through it!
Get a telescopic brush
An extendable telescopic brush will allow you to clean those hard-to-reach places. If you can acquire one long enough to successfully clean every part of the roof, all you'll need is some hard work and determination to give your whole conservatory a pristine shine.
Cleaning the glass
With over 75% of the structure made from glass, a large part of cleaning your conservatory will be focused on these areas. Cleaning with a squeegee and some soapy water will give the glass a good shine. However, using a micro-fibre cloth for a final wipe will remove any streaks. White streaks on glass are especially visible in "hard water" areas, due to the presence of chalk. And as Swindon is in a "very hard" water area, giving the glass one last wipe is necessary for achieving a streak-free finish.
Take care not to use any abrasive tools
This is especially important on self-cleaning glass. The coating present on self-cleaning glass gives it that self-cleaning quality. Any tools that are even slightly abrasive could cause damage, negating its cleaning ability. Refrain from even using squeegees, unless dirt is especially persistent.
…or chemicals
Pilkington, a leading provider of self-cleaning glass, recommends using only certain chemical cleaners on self-cleaning glass. Ebay supply soft cloths that clean using just water here, which could be a good alternative to any chemical cleaners.
Don't forget the gutters!
Ideally, gutters should be cleared out twice a year. Allowing them to clog will cause them to leak, which can lead to external damage. A uPVC cleaner and a cloth is recommended for cleaning the visible areas on guttering.
Cleaning a conservatory can require considerable effort, but giving one a pristine finish can be incredibly satisfying. However, if you feel a clean is not sufficient for breathing a new lease of life into your conservatory, why not consider a replacement roof from us here at Emerald. Or if you've any other glazing relating queries, please feel free to get in touch with one of our experts today.