Earlier last month, the Emerald team's bespoke and professional installation services were once again called upon – this time by the Webber family based in Cricklade who's tired polycarbonate conservatory roof was simply not up to snuff!
The lean-to conservatory continued to excel at providing the homeowners with beautiful views and glorious floor space, but it was clear from the get go that a replacement glazed conservatory roof would help increase efficiency and even provide welcomed insulation.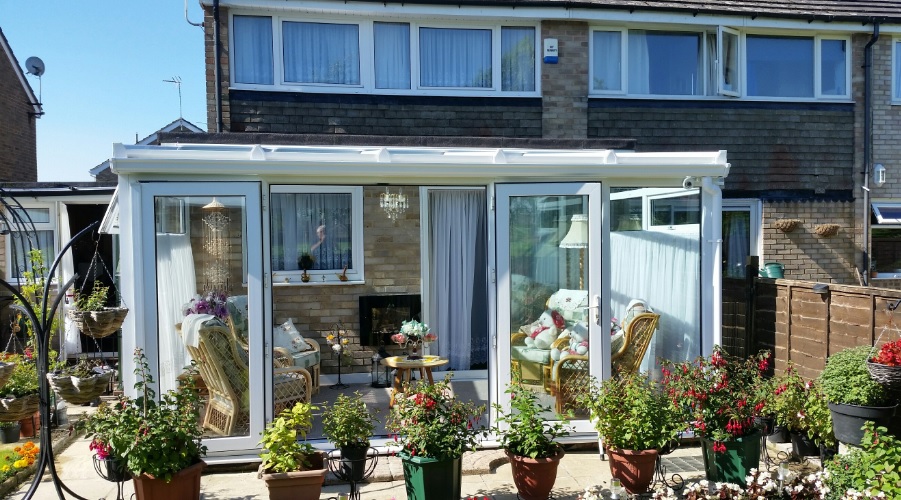 A tired conservatory reinvented
What immediately became apparent when assessing the project, is that the courteous Cricklade family were tired of putting up with the sound of harsh rainfall, unpleasant draughts and even pesky cold spots. Unfortunately, these were clear indications that the family's Lean-to conservatory was suffering from an insufficient conservatory roof, still constructed from polycarbonate.
In order to successfully enhance the versatility of the property's Lean-to conservatory, we took it upon ourselves to install an energy efficient, crystal clear glazed conservatory roof complete with self-cleaning glass in order to satisfy the intended requirements. The new supplied roof also boasts a subtle blue tint that not only adds a very welcome visual flourish, but also ensures unparalleled light transmission for a lighter and brighter atmosphere!
Bye bye polycarbonate, hello efficient glazing!
Glass conservatory roofs beat out polycarbonate originals every time simply due to their more successful ability to balance light entry, decrease UV ray impact and of course provide acoustic insulation from the harshest of elements. The Webber family could now rest comfortably knowing that they would now enjoy the upmost comfort and efficiency – reducing financial bills also
Our expert team made the project it all in a day's work with a hassle-free installation process that was completed swiftly with very little interruption. We took extra time and attention to ensure that the replacement was carried out with the absolute level of professional Emerald has become known for, explaining to the homeowners at each stage what action would be taken next.
A swift turnaround that left the homeowner's impressed
Upon completion of the replacement glass conservatory roof, the Webber's were glad to have placed their faith in Emerald Windows expressing:
"A team of three arrived on schedule to complete the replacement which was carried out with absolute professionalism each stage was completely explained from removing the old roof to installing the new Pilkington Blue glass roof. On completion the site was completely cleared – roof cleaned of any finger marks etc."
"Emerald Door and windows are a first class company and we would recommend them and would certainly use them in the future."
Replacement roofs from a company you can trust
Are you considering a new replacement roof to help enhance your conservatory? Find out more about the features available in Emerald's range of high performance products by requesting a free quick quote, or by calling us on 01793 700 142.
Areas we serve
We are based in Swindon, Wiltshire – serving Swindon, Bath, Melksham, Cheltenham, Gloucestershire, Marlborough, Oxford, Reading and Bristol. Additionally, we are also able to serve places within 1 hour radius of Swindon.