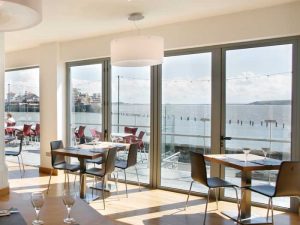 Aluminium has become an increasingly popular choice of material for home improvement projects in recent times. Offering a sophisticated and contemporary aesthetic for modern homes, windows, doors and conservatories can all be made from aluminium. Not only is aluminium the on-trend material for home improvements, but it also comes with a wealth of other benefits such as being easy to maintain as well as very energy efficient. Let's take a look at exactly how incorporating aluminium into your home improvements could benefit your daily life.
Aluminium windows achieve effortless style
Aluminium frames can transform your home and give it a stylish outward appearance. The slim sightlines combined with inherent strength allow aluminium frames to hold large panes of glass whilst offering near uninterrupted views of the outside. The distinctive and contemporary look of aluminium windows, doors and conservatories complements modern homes effortlessly. That being said, aluminium frames can also work to create a modern twist on older properties. Aluminium has also been known to mimic the look of Crittall Steel windows which creates an art-deco style aesthetic.
Our aluminium frames come in a variety of colours and finishes so we are confident there is a configuration to suit your home and desired aesthetic.
Aluminium windows, doors and conservatories are an energy-efficient choice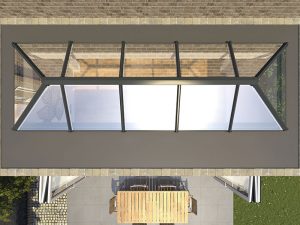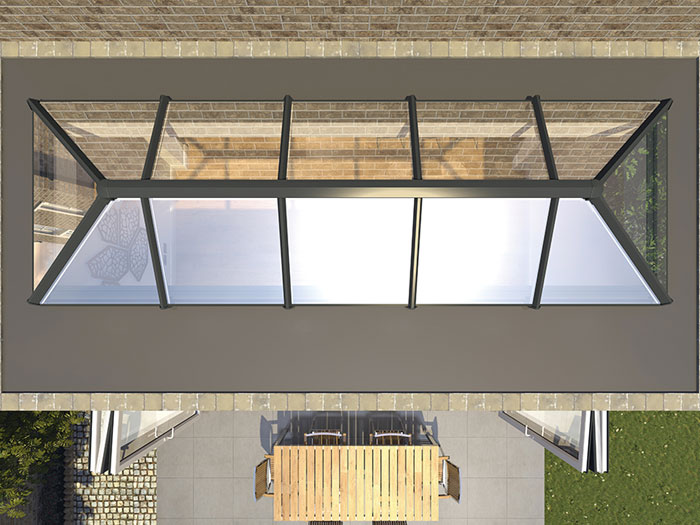 Aluminium frames are thermally broken to help keep the warm air inside your home and prevent cold air entering. This makes them ideal for windows, doors and conservatory roofs. They will keep your home comfortable all year round, whatever the weather.
A thermal break is a section of non-thermally conductive material that is used within the aluminium window and door framing. This separates the internal piece of frame and the external piece of the frame into two thermally separated elements.
A thermal break is very important and essential for any metal-framed window or door that is separating two different climates, so, for instance, a door between inside and outside. This is because metal has a very low thermal mass. This means it conducts and loses heat easily.
Aluminium frames are easy to maintain
Another great benefit of aluminum is that it is naturally easy to clean, and even if you forget for a few months, it's extremely unlikely that any damage will occur to both the integrity of the material and its appearance. We recommend simply wiping over your aluminum frames every once in a while with a damp cloth to keep your frames looking as good as the day they were fitted. Not only do aluminum frames offer a modern aesthetic but they also provide a modern solution for maintenance leaving homeowners more time to focus on the important parts of life.
Aluminium can be used for windows, doors and conservatories
Aluminium windows are the perfect choice for your home as they offer a multitude of configuration options to suit whatever property style you have. Their contemporary appearance is highly versatile. You can choose from a range of thin frame aluminium window styles and designs, and a variety of attractive colours. Whether you're looking to retain the traditional timber effect with our range of woodgrain finishes, or a sleek black, grey or white slimline aluminium window style, we cater to every type of property. This also makes them a great choice for bespoke shaped windows.
Bifold doors and aluminium go hand in hand; a modern material with an innovative product. They benefit from slim sightlines to give a door with wide-ranging views, open or closed. 
Our aluminium bi-folding doors can open up entire walls, with any combination from two to seven panels and a maximum width of 7m. With the insulation properties of thermally broken aluminium, bifold doors will keep your home at the right temperature all year round. With sleek slim frames and stunning views, our aluminium bi-folding doors never fail to impress.
If you're looking for that finishing touch for your extension, consider a lantern roof. They consist of elevated panels that flood any room with natural light. Choosing aluminium frames for your extensions lantern roof will ensure that heat is maintained while allowing as much light in as possible.
Aluminium home improvements to suit you
At Emerald, we are confident that we have the aluminium home improvement solution to suit you.
Why not visit our Swindon showroom where our friendly team will be more than happy to help with any questions you may have about our huge selection of home improvement products. Get in contact with us today to arrange a visit to our Swindon showroom by completing our contact form or calling us on 01793 700142.
Enjoyed this post? Check out our post on the 7 most popular conservatory styles.