As COVID restrictions ease, more people are living in shared accommodation than ever. As such, the necessity for capable fire doors has never been more urgent. According to the Fire Safety Order of 2005, it is the legal responsibility of 'responsible persons' such landlords to ensure the installation of working fire doors in their properties. However, even as we enter 2022, many people are still unsure on the regulations surrounding fire doors. In this article, we'll be breaking down everything you need to know, including:
What is a fire door?
What is a fire door made of?
Where are fire doors required?
How to spot a fire door
Why you should trust Emerald to install effective fire doors
What is a fire door?
A fire door has two primary functions:
Prevent the spread of smoke and fire when shut
Provide easy, unobstructed access to an exit when open
They need to be installed in Houses of Multiple Occupation (HMOs), where several different people from different households live. They are placed so that they protect specific, sectioned-off areas of the building. The aim is minimise the spread of the fire and reduce damage to the property and its residents.
Thankfully, at Emerald, all our fire doors are compliant with the standards set out by the Ministry of Housing, Communities & Local Government (MHCLG).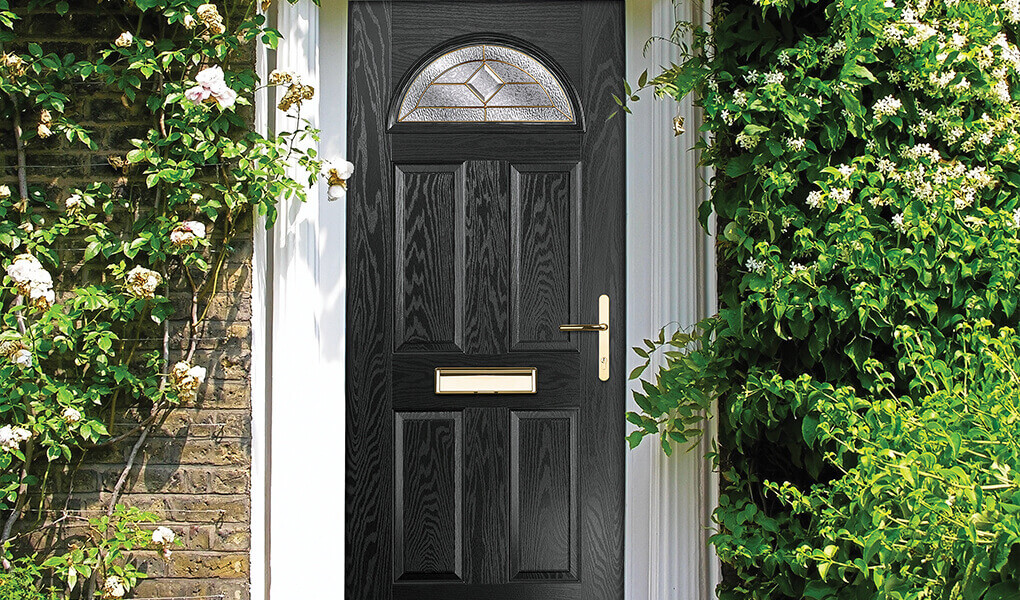 What is a fire door made of?
The best fire doors are made of a composite material, combining the best elements of timber, uPVC, glass and steel. At Emerald, our composite fire doors are made with a solid timber core and a 70mm steel-reinforced frame.
Around the edge of the door, there needs to be a layering of intumescent seal. This sealant expands when temperatures exceed 200°C, sealing any gaps between the door and the frame. This helps to halt the spread of the fire.
Of course, when fire strikes, many deaths are attributed to asphyxiation from smoke, rather than burning. This intumescent sealant, therefore, can also contain cold smoke seal to prevent the spread of smoke. However, this is not always the case, as in some situations the leakage of smoke is needed for detecting the fire.
Where are fire doors required?
In flats that are more than two storeys high, there must be a fire door separating the stairwell and every occupied room. Loft conversions and integral garages also require fire doors to be installed, by law. In rented, shared accommodation, it is also strongly recommended that fire doors are installed in more at-risk areas, such as kitchens, where electric appliances are in abundance.
As per the Regulatory Reform (Fire Safety) Order 2005, the fire door must lead directly to a place of safety, with as short and as obstructed a route as possible. They are required to have clear, correct signage on both sides of the door to indicate that it is a fire door. A separate sign must also indicate that it is to be kept closed.
The priority is that residents are given access to a safe exit. The legal responsibility of providing a working fire door falls on the 'responsible person'. In a rented flat, this person is the landlord.
What to look for in a fire door
If you already have a fire door in your flat, there are a few checks that you can carry out. These include:
Certification – is there a valid certification label on top or on the side of the door?
Gaps – are the gaps around the door consistently less than 4mm when the door is closed?
Seals – does the door have intumescent seals and are they in good condition?
Hinges – are they properly fixed? Are they missing any screws or other components?
Closing – does the door close firmly without obstruction?
If there are problems or concerns with any of these aspects, we would advise the door be reported to the relevant authority.
Another thing to consider is that the frames of the door should be a colour that contrasts with the surrounding walls, so that the door is clearly identifiable. In the same sense, the door must be well lit, clearly signposted and completely accessible to all people in the building.
Emerald are trusted fire door installers
A disturbing stat is that over 75% of UK fire doors inspected in 2019 were deemed unfit for purpose. A staggering 30% of these cases were attributed to poor installation.
At Emerald, we take the safety of our customers seriously. We are a FENSA registered company, and are members of both the GGF and CPA. Therefore, you can be assured that we will execute any fire door installation with maximum precision.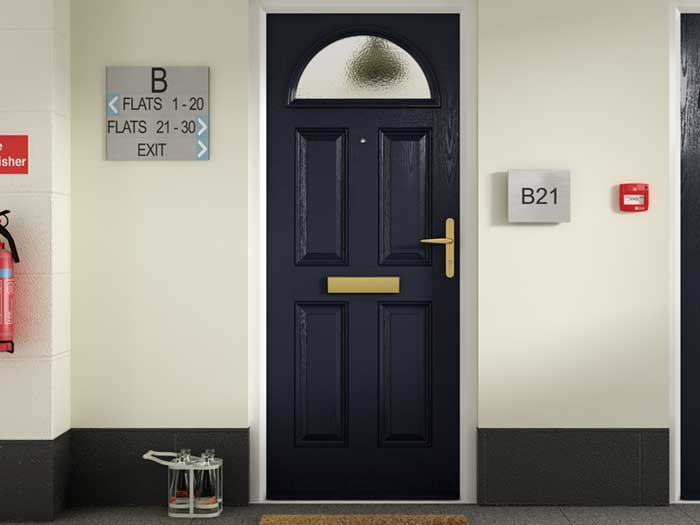 Our fire doors are fully tested and certified
Each of our fire doors have achieved the FD30 certificate. This certifies that they offer adequate protection against fire and smoke for up to 30 minutes before the door begins to soften. This gives a flat's occupants more than enough time to escape the premises, and for the fire brigade to diffuse the situation before the fire spreads.
Our fire doors are environmentally friendly
Like with all our doors and windows, we make our fire doors from the most energy-efficient, 'A' rated materials. On normal days, when there are no fires, they will help to maintain indoor heat and eradicate draughts. This will, of course, help to reduce the building's overall energy bill expenditure.
The composite material we use for our fire doors, furthermore, is completely non-toxic. No harmful gasses will be emitted when the door is burning.
Fire doors with exceptional security features
One of the most vital requirements of a fire door is that, when it's shut, it stays shut. As such, we supply our fire doors fitted with the Surefire Autolatch 2 Hook Multipoint Door Lock system. Thanks to this state-of-the-art system, shutting the door engages the trigger and fires all 5 locking points into the keeps. Passing the requirements for the PAS24 certification, this gives you complete peace of mind that your property is secure, even when it's not at risk of fire.
Fire doors in a range of colours and designs
Finally, just because the fire door is an essential requirement, it doesn't mean it can't look good. Just like our range of composite doors, our fire doors can be manufactured in a range of designs. You can also choose from 11 different external colours, so that the door still fits with the character of the property.
Additional hardware options will also include:
Levers and handles
STS NOR400 fire-rated letterplates
Spyholes
Urn knocker
Numerals in either chrome or polished gold finishes
All of these are completely fire-resistant and will not negatively impact the quality of the door. So long as it's clear to all occupants that it is a fire door, you can customise its appearance to your tastes.
Safe and secure fire doors in Swindon, Bristol, Reading and across the South West
Emerald is a leading installer of fire doors for Wiltshire and beyond. We were recently named the top window fitter in Swindon. For more information about our fire doors, or the law surrounding fire doors, our friendly team are on hand to answer any questions. Fill out our contact form or give our team a call on 0800 612 4154.